Planning a wedding can be oh so stressful, but it doesn't have to be! Picking the right vendors is key to having a successful and stress free wedding day! Finding the right wedding photographer will be simple with these 7 tips.
Figure out what style of Wedding Photography speaks to you.
First you need to figure out what style of wedding photography that moves your soul. Make this decision as a couple for sure. Photography style can mean a variety of things from the way the photographer uses light, the composition, the post processing (editing) style and what the photographer documents (posed vs unposed).
Do you love overly posed images or candids?
Is your vibe Light & Airy or Dark & Dramatic?
Documentary (unposed) or Traditional (posed) or a mixture of both?
Fun & Playful or full rollercoaster of Emotions?
Does the photographer show a huge range of images or the same pose over and over?
If you are the type of couple who has a Pinterest Board with "must have" wedding portraits, make sure your photographer is good with that, as many are not. If you want mostly unposed moments, make sure the photographer's portfolio reflects this!
Try not to jump on the trend bandwagon. Just because a certain "look" is trendy now, how will it look in 20 years? Just look at Sepia style photos and 80's wedding gowns. Ew. Go for a more classic and timeless look when you're checking out a photographer's editing styles.
Question to ask: What is your photography genre? What is your editing style?
Do you personally like the Photographer?
You are literally going to spend 8-12 hours with this person (or people) on one of the most important days of your life. Do you feel like you can be vulnerable in front of them? Do you trust them? Will they annoy you? Do they have a calming presence? Could you be friends with this person? Are they nice or super full of themselves?
Mostly just trust your gut. Try to get to know them from their website first and then see if their website is an accurate description of who they are in real life. If you LOVE their work and they seem like good people, hire them!
Questions to Ask: Why do you document weddings? What is your favorite part of a wedding day? What is your favorite band?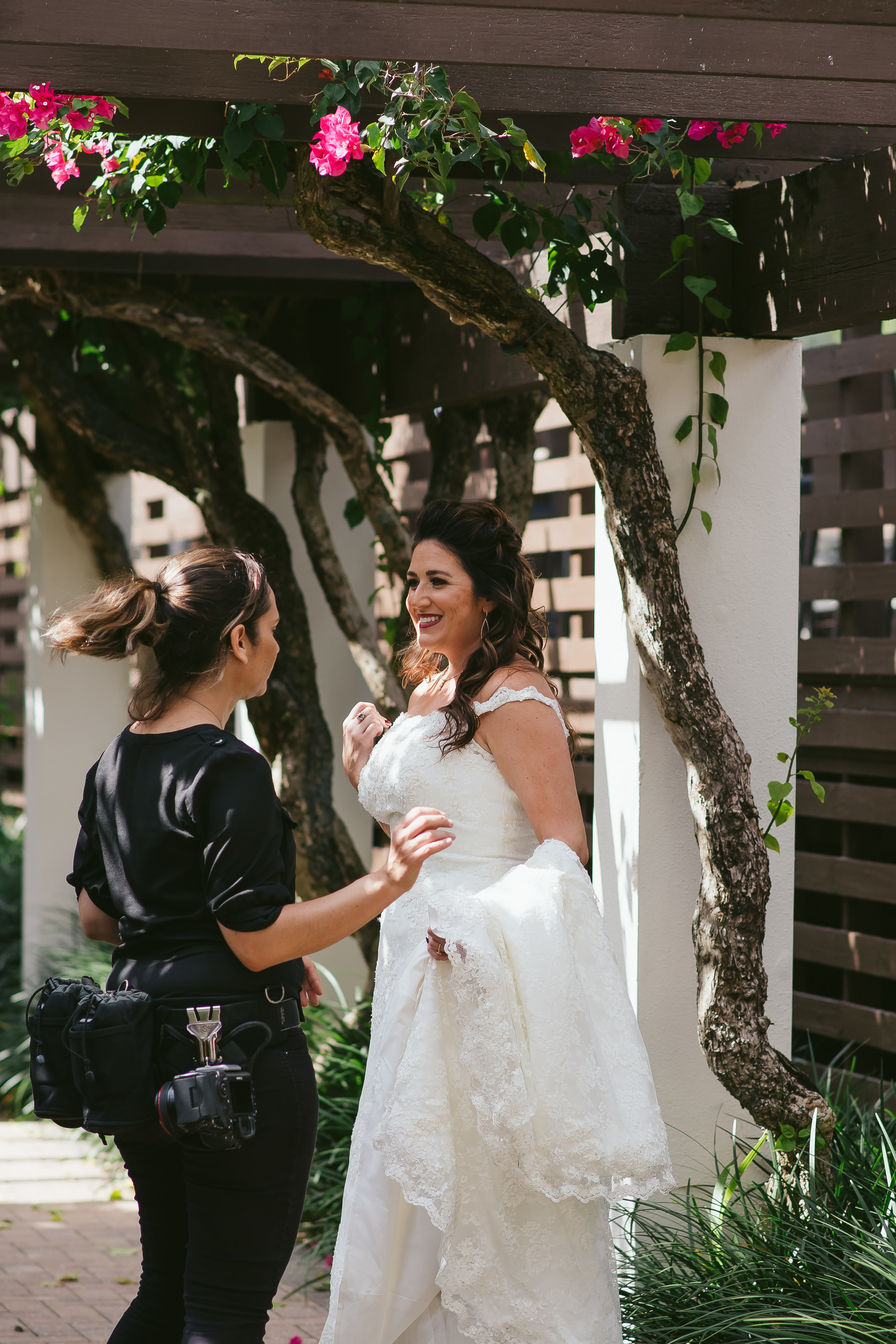 Consider the light.
Does the photographer know how to utilize light? If you're having a daylight / outdoor wedding, a "natural light" wedding photographer might work just fine, but if you live in a place like South Florida, bad weather is a 50/50 chance every day, can the photographer use flash? Look for portfolios with a wide variety of light, not just natural light.
Question to ask: How do you handle rainy wedding days? How do you deal with dimly lit venues?
Is the Photographer's Portfolio all inclusive?
Do you see couples who look like you in the photographer's portfolio?
Does the photographer only show one kind of couple or a wide variety of couples in all shapes and sizes, ethnicities and religious backgrounds? Is every wedding in a church or at a variety of venues?
If you are an LGBTQ couple, make sure your wedding photographer showcases same sex weddings! You can actually tell a lot just from filling out the photographer's form on their website!
If their portfolio only shows skinny white people that look like models, you might want to steer clear. Find a photographer who embraces REAL couples in all shapes, sizes and ethnicities.
Definitely do your research if these values are important to you as a couple.
Consider your budget.
Yup. I completely understand the importance of sticking to a budget because weddings are expensive AF. My advice here is to rate what is most important to you on your wedding day. If you find the photographer of your dreams and they are out of your budget, consider cutting corners in another area! Seriously, do your bridesmaids really need robes & flip flops? The wedding photographers I plan on hiring someday are $11,000 for the day and that's without travel!!! It's honestly all about what you value. If you value having a professional wedding photographer whose work speaks to your soul, you will do whatever it takes to have that photographer document your most important day.
Just remember when everything is said and done, your wedding photography is all that's left after your wedding day… and the saying is kind of true in this instance… "you get what you pay for".
Questions to ask: What's included in your wedding packages? Do you offer payment plans? Does this include an engagement session?
Look beyond the website highlights and social media!
Most photographer's only showcase the BEST OF THE BEST on their website and on social media. When interviewing your photographer, ask to see a FULL WEDDING GALLERY. This gives you the opportunity to see what your gallery will most look like. If the photographer does not comply, be wary. You don't want to hire a photographer that has only photographed styled shoots, which may look like a wedding, but are actually just a set with models.
What to look for:
Is the editing style is consistent throughout the gallery? You don't want your album looking like a coloring book with 100 different editing styles.
Make sure the Family Formals are well lit and in focus.
Make sure there are more moments than details. Do you really want 150 detail shots of your dress, shoes and flowers?
Make sure you love the editing and the photographer's approach.
You should totally see a photographer's sense of humor and personality in a wedding gallery. Make sure you vibe with it!
If you don't have time to browse entire wedding galleries, check out the photographer's blog. A wedding photographer should have tons of weddings on display for potential couples to peruse through!
Questions to ask: How many weddings have you documented?
Make sure you're hiring a Professional!
I've seen it time and time again. Couples who book a wedding "fauxtographer" to save money and end up completely devastated with their wedding photos. Do your research and make sure you are hiring a professional WEDDING photographer.
If the photographer's portfolio is made up of all food and landscapes, they are probably not going to do a good job on a wedding. Professional wedding photographers have seen it all and can (hopefully) deflect whatever wedding day chaos comes their way, because that's what they do! If you hire a photographer who has never documented a wedding, you are going to be extremely disappointed with your gallery.
Just because a photographer has a "Best of The Knot" or "Best of Wedding Wire" award doesn't make them a professional. Awards like that are based on number of reviews on their paid for accounts. Also be wary of venues recommendations as many CHARGE the "preferred" vendors. So basically they refer anyone who pays them. Not cool. If you pick your vendors based on referrals, make sure it's from a couple who has experienced using the photographer, not a venue.
Questions to ask: Can you supply an insurance certificate to the venue? How many weddings have you documented? How long have you been documenting weddings?
Picking your wedding vendors can be such a headache, but once you start connecting with your vendors and surrounding yourself with ones you really adore, you'll end up so happy on your wedding day.