Helpful Wedding Planning Solutions
Planning a wedding can be a total nightmare, especially when trying to do it alone! Don't let the stress of wedding planning get to you.
Here are 8 solid tips to keeping your sanity while planning your best day ever.
1. Hire the right vendors.
Putting a team of vendors that not only aligns with your wedding vision, but align with you as a couple is VITAL. The biggest regret I've seen for my couples is hiring the wrong planner or a florist who didn't listen to their wants. Go with your gut but also do your research. Will this vendor go above and beyond for you on your wedding day? Are they communicating well with you? Are they giving you overall good vibes? Check out their Google and Yelp Reviews. Ask your newly married friends for suggestions of who they LOVED working with. Do your homework, meet them in person if possible and make sure you are connecting with them on a personal level. If your wedding planner or venue is pushing other vendors on you, be wary…those types of situations often times involve a kickback and are NOT in your best interest.
2. Stay Organized!
Set up a wedding only email account that you share with your fiancé (or a folder within your current email to keep all your wedding emails together). Make sure you're communicating clearly with all of your vendors of your expectations. Same thing goes for all of your family members and wedding party. Being organized is a super important part of the wedding planning process.
Create a to do list and cross things off every week. Crossing off those items will help you feel accomplished and a little less stressed.
3. SELF CARE! SELF CARE! SELF CARE!
Whatever self care means to you. Whether it's a long hot bath or going to therapy, it's important to keep yourself healthy because wedding planning can be STRESSFUL AF. Make sure you're checking in with yourself and not spiraling out of control (no one likes a bridezilla).
-Go out with friends and talk about everything but the wedding!
-Connect with nature. Go kayaking or for a walk in the park. Get some vitamin D.
-Make sure you're eating healthy and getting exercise!
-Make sure you're setting BOUNDARIES with your wedding party and your family (hellooooooo this is YOUR wedding, not theirs).
-Meditate, burn some sage, pick up some calming crystals like amethyst or rose quartz or blue lace agate, get a massage, go to a reiki circle, do all of the healthy things that make you feel better when you're stressed.
-Make sure you're getting enough sleep!
4. Ask for support.
Your friends and family will offer to help. Take it. Definitely create boundaries with them, but also… let them help. Don't try to take everything on yourself. I'm looking at you Type A personalities!
Make sure your wedding party is full of helpful friends and family and not selfish friends who don't have your back. I've heard it time and time again how friendships end post wedding. Don't just fill a spot, choose your people with intention!
5. Be Flexible.
Let go of the idea of perfection. Things are not going to be perfect. Remember the root of WHY you're having a wedding. Enjoy the process, but don't let it ruin your sanity, your relationship or your friendships! Check in and remember what you're grateful for every day. Be open to compromise and try to keep things simple.
6. Remember to connect with your fiancé!
Wedding planning can absolutely lead to a break up and a called off wedding. Make time to connect with your fiancé during this chaotic time. Go out on dates and DON'T TALK ABOUT THE WEDDING. Remember why you're doing this thing together. If things get rough in your relationship, consider couples therapy. Going into a marriage on the same page with the tools to succeed together will make all the difference!
7. Serve Others.
I know this sounds a little weird, but focusing your attention on something or someone else can really help take your mind off the wedding planning. Go volunteer for a good cause. Make plans to connect with a friend who needs you. Serving others will make you see the bigger picture and be grateful for what you have.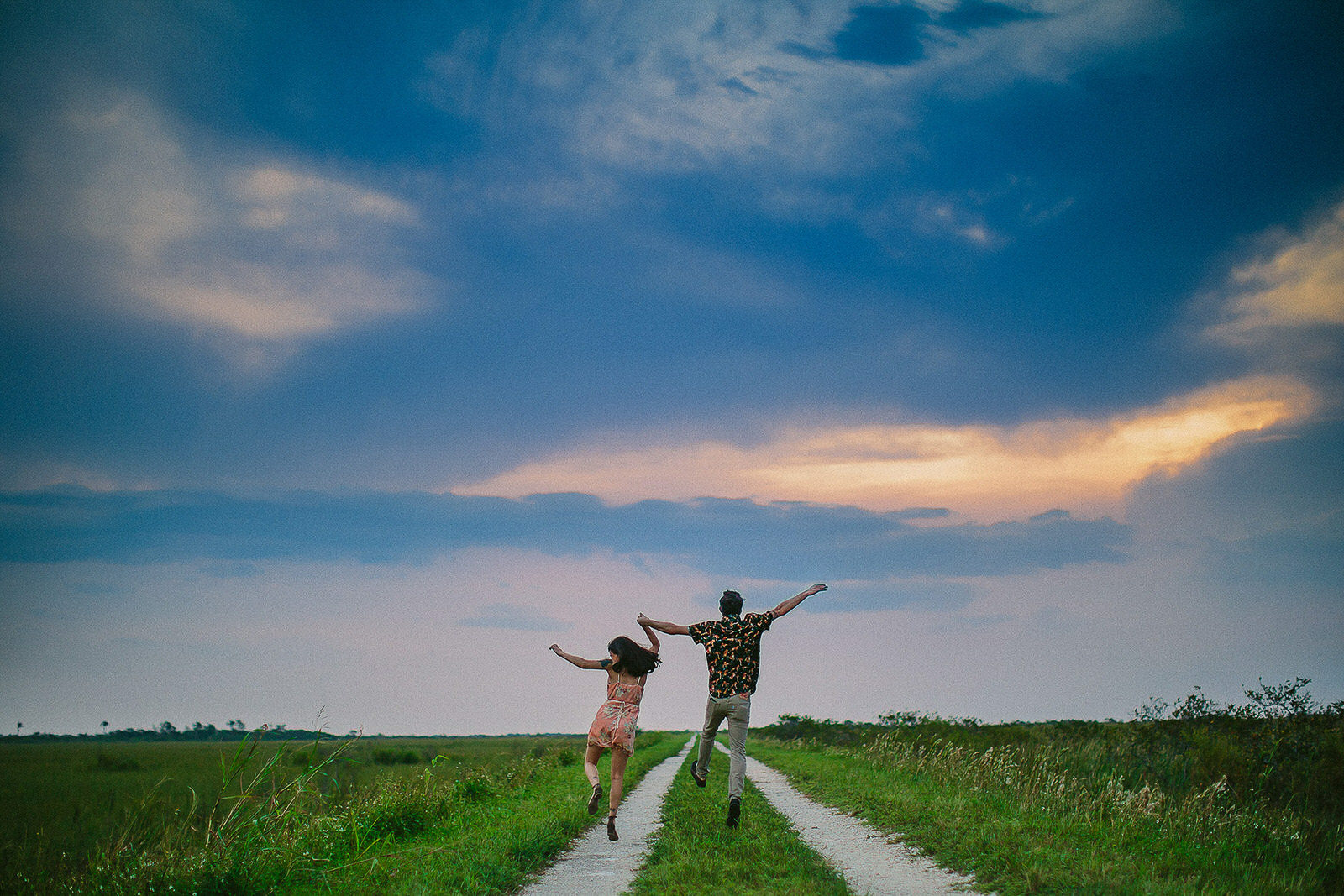 8. Get Creative and Have Fun.
Make your own wedding traditions and create a day that reflects you as a couple. Get as weird or creative as you want. If you're making your wedding day unique and creative and not trying to keep up with what everyone else is doing, you'll enjoy the process a whole lot more. Gather inspiration from Pinterest and wedding blogs like Offbeat Bride, Green Wedding Shoes, and Catalyst Wedding Co! Incorporate traditions in your own way and have fun with your wedding. Weddings don't have to be super formal, stuffy affairs!
Check out these amazing wedding days…
Florida and Destination Wedding Photographer
Featured
Magical Barn Wedding in Apopka, FL | Tiny House Photo | Florida Wedding Photographer
Intimate Vegan Wedding in Bloomfield, New Jersey | Tiny House Photo | Wedding Photographer
Gorgeous Wedding at the Ritz Carlton Key Biscayne | Florida Wedding Photographer
Rainy and Beautiful Wedding Day at Benvenuto in Boynton Beach | South Florida LGBTQ Wedding Photographer
Super Fun Wedding Day in Jensen Beach | Florida Destination Wedding Photographer
Gorgeous Fall Wedding in Naples, Florida at the Wyndemere Country Club | Naples Wedding Photographer | Tiny House Photo
Wedding at the Addison | Boca Raton Wedding Photographer | Tiny House Photo
Intimate Wedding at the Perez Art Museum | Miami Wedding Photographer | Tiny House Photo
Super Fun Wedding at the Lighthouse Point Yacht Club | South Florida Wedding Photographer | Tiny House Photo
An Intimate Wedding Story | Southwest Ranches Wedding Photographer | Tiny House Photo
Destination Wedding at the Amara Cay Resort | Florida Keys Wedding Photographer | Tiny House Photo
A Magical Vegan Wedding at Flamingo Gardens | Fort Lauderdale Wedding Photographer | Tiny House Photo
Fort Lauderdale Stranahan House Wedding | South Florida Wedding Photographer
Fairytale Wedding at the Miami Beach Edition | Miami Luxury Wedding Photographer | Tiny House Photo
Glamorous Wedding at the Hillsboro Beach Club | Palm Beach Wedding Photographer | Tiny House Photo
Beautiful Same Sex Wedding at the Addison in Boca Raton, Florida | Boca Raton Wedding Photographer | Tiny House Photo